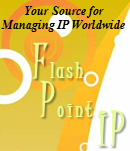 Businesses are striving more these days to use IP to help differentiate them from their competitors. However, the ultimate value of one's intellectual property is highly dependent on its business context and available resources – securing IP is just one part of the value chain of your business.
IP always originates from a novel idea – a new technology, a radical design, a redefined business process, a clever branding scheme, or a bold form of creative expression. Significant thought, planning, and effort are required to translate that idea into a valuable asset. For the innovator, IP protection is the cornerstone of achieving the intended business goals. But, mistakes can be costly and difficult to rectify during patent drafting as any experienced patent prosecution firm can attest. This is why it is important to have a well-structured game plan at the outset of formulating your IP strategy & management.
The FlashPoint IP approach makes every client engagement a value-driven process. We implement this approach by advising and initiating action on behalf of our clients once it can be rationalized from a business point of view in the IP strategy & management. Moreover, our fee structure compliments our methodology by providing first-class services at affordable rates. Our portfolio menu features a broad range of intellectual-property services (including patentability search and patent drafting) for which we have detailed important strategic aspects. In order to discuss the specifics of your IP needs in detail, contact us for a free initial consultation.